We're announcing PaySketch 6.0 today – our most worked-upon, feature-packed and refined software release to date. Like 5.1 this one too has been built ground up with a joint effort between our users and the engineering team. With the help provided from your contiguous feedback and enhancement requests, we were able to work upon the most useful (and desired) features, fix issues and beef up the product so that it provides more value to your business while you save both, time and money. The most prominent changes, features and fixes that you will notice with PaySketch 6.0 are:-
Multi-Currency Support
This one was the highest on feature list, with most of our users requesting of a way to be able to track their sales from currencies other than the account's primary currency. The multi-currency support has been added across all dashboards. Users will now be able to view, filter and search across each aspect of their business for any particular currency. And yes, we didn't miss adding it to the Summary Dashboard – see lifetime sales, product and customer insights for each and every currency that you've transacted in.
Super Cache
Until 5.1, data across all dashboards got reset to their initial state on revisit. PaySketch 6.0 now cache's the state of every single dashboards, so when we want to go verify a sales transaction and see its revenue contribution from the Products Dashboard, be assured that you will end up having the same view in place on revisiting the Sales Dashboard. This holds true for all the dashboards – they will from now on, only refresh to the initial state when there is new data, so that you don't keeping seeing a stale state of things. With caching, we've also improved a lot on the time to switch and load data, when transitioning from a dashboard to the other. Switching to a pre-cached dashboard should now take a split second!
Try it out to experience the agility.
Safe Mode
A very small cluster of our high volume account users had been facing issues while trying to connect PaySketch to Paypal. The strange part was, that it didn't occur every single time! At times, it all went through without a hiccup whereas sometime it as was stubborn as goat :). Our engineering team really burnt the mid-night oil to come up with a fix to this – a safe mode. The Safe Mode guarantees super strong TCP connections over HTTPS with PayPal, and we haven't seen the issue again.
This mode of operation is recommended only for users who are having difficulties connecting PaySketch to their PayPal account. One can enable and disable safe mode from the Settings Dashboard.
Subscriptions support
With PaySketch 6.0, you now get a complete profile and summary on all subscription based transactions. The profile and summary are shown on the details panel of every grid based dashboard. Clicking on the Subscription id will trigger a hotspot search to all transactions bound to the particular subscription.
Product Search
The product search allows searching through the complete inventory of products. This adds on top of all applicable filters within the Products Dashboard. The search filter works as you type, so results will auto-populate as the keyword is changed (4 characters or more).
Report on Countries and Products
The reporting engine now supports creating detailed reports on Countries and Products. Users will now be able to select upto 4 filters based upon which the reports will be rendered:-
Time frame
Currency
Specific product/country
Details
The time-frame allows you to specify the search criteria for sale of products to certain countries that were completed within a certain timeslot. This is a mandatory filter.
The currency filter allows consideration of sales only for a specific currency. This is an optional filter and when not selected, all sales transactions for the above mentioned timeframe are considered.
Country/Product selection: This filter allows selection of a particular product or country to which the product was sold. This too is an optional filter.
Details: Checking the show details option will list complete details of countries in which the product was sold (or products sold in specific countries when the Countries Report is selected). This too is an option filter and will work only when the Currency filter is set.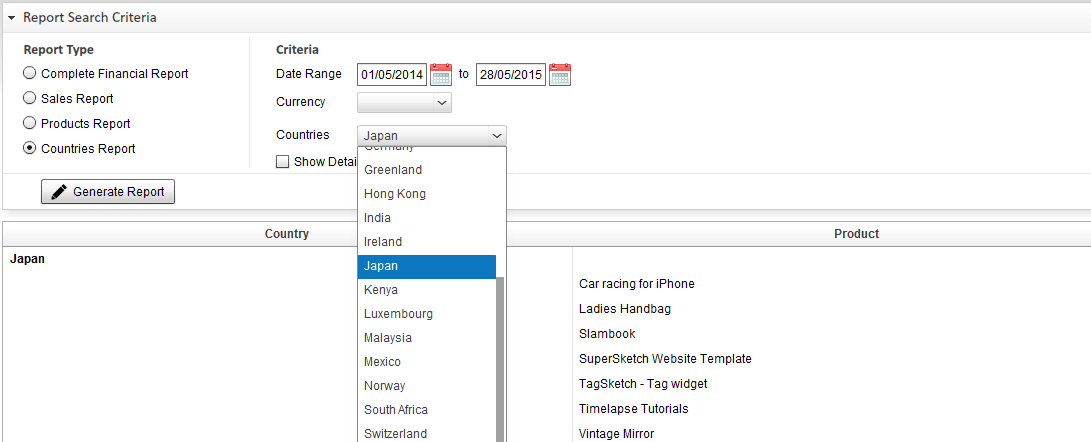 Order Details
View Order details and download them from across all dashboards with a single click. Additionally, the Customers Dashboard now allows has the functionality that lets you download all the orders for any customer with just a single click.
Numeric representation of stats
We really like to support your business, and with growing business, there comes in an increase sales revenue – which is a good thing. So all dashboards now show numbers abbreviated in Ks (for thousands) and Ms (millions.. phew
), so that you don't have to count the digits to know your business is doing really well! Hovering over any such number will show the exact and precise details.
Other list of features added with this release include:-
A help icon across each dashboard, that gives instant access to the software manual page for the dashboard.
Highlights in Sales and Products now show the currency into question.
Hotspot searches (the ones that work when you click on any Transaction Status, Type, Country or ID) are now much faster (atleast 2X)
Stop Sync – in case you started syncing PaySketch with PayPal for say 5 years and realize that it would be too much of data to be actually useful, you can now stop the initial sync process from the Settings Dashboard.
Home page now loads faster (at 4X speed, should we say much faster).
Connectivity refresh button in the Settings Dashboard now instantly checks for any connectivity problems.