Folks, we are extremely happy to announce the release of version 5.0 for PaySketch! Thanks to your feedback and requirements, we were able to get a complete view of use-cases and that helped expand and fine tune the product. This version packs a lot of bells and whistles, find them listed below:-
PaySketch Professional users now get the ability to

connect multiple PayPal accounts

using the same software license (upto 5 accounts at any point in time).
A new way of synchronizing data, where you get the ability to select the exact date starting when you want your PayPal data to be downloaded and analyzed.
Sales dashboard metrics now includes non-product sales, so you can count all invoicing and money transfers too.
Access Management will allow account admins to disable money transfers and refunds.
Search and Reporting Dashboards can now be used even for archived transactions.
A lot of query and backend optimization for faster performance across the board.
Upgrading to Business or Professional versions of the product is now a 1 click job.
Moving the software license to a different computer has been made easier. Users get a 1 time Transfer code which they can use to move the software license.
Smoother transitions and additions to transaction details.
To upgrade PaySketch, simply logon to the software and navigate to the Settings Dashboard. Hit the Registration Tab, and click on the software upgrade button. Here's how:-
The application will ask for your choice between 'Download now' or 'Download later', prefer to download right away so that you are running the latest version. Once downloading completes, choose 'Install Now'.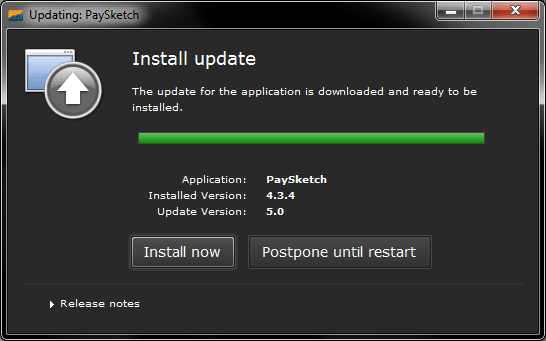 PaySketch will automatically restart after the upgrade installation completes. Sign in with your account credentials and wait for the in-app upgrade to complete. Once you receive a confirmation, feel free to try out the new features and please let us know your feedback.
Thanks from Everyone@PaySketch