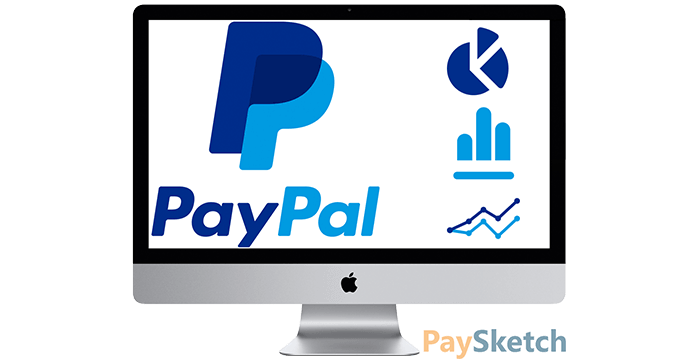 In the recent years, an entirely new community of developers and individuals has sprung up, who prefer to sell digital content like softwares, themes, plugins and widgets. At the same time, with a growing e-commerce industry individual sellers and small businesses have grown atleast 10 folds in the past 3 years. If you are running a business online, then chances are that you use PayPal as one of the modes of payment.
With growing sales numbers and multiplying customers, it becomes harder for businesses to keep track of things; particularly for individuals and SME who have little to no access to any form of analytics or reporting. An application that sits right on your computer and keeps you updated with the latest happenings in your PayPal business account, crunches all the numbers to show you actionable indicators and does all the work so that you could see contiguous sales and payment trends, measure customer loyalty and fix issues with non-performing products.
PaySketch – a PayPal Desktop Application
PaySketch shines as PayPal desktop application to helps individuals and businesses manage their PayPal sales, payments, customers and products. It comprises of dedicated dashboards, one for each – sales, payments, customers and products to give you deep insights. An executive summary dashboard takes care of showing all the high level indicators right when you login. This helps in comparing statistics, updating milestones and taking quick actions to fix issues. PaySketch also comes in as a complete reporting tool so that you can find PayPal transactions by search across multiple attributes.
Features
Analytics – Trends, highlights and alerts provide you with in-depth analytics for PayPal. Trends let you watch out for peak sales days, highlights indicate high and low performing products and alerts let you know if there is something wrong with the transaction.
Reporting – Search for PayPal transactions by putting in multiple search attributes and download PayPal transaction history in CSV format within seconds.
Transfer money – Using PaySketch, you can transfer money through PayPal in a click. It literally takes just a click and a second to transfer money.
Refund transactions – Buyer got a defective product or is unhappy with the service? Issue refunds right away in a click.
Secure – Logging into PaySketch requires authentication and all communications with PayPal are based on secure protocols so that you can stop worrying about security and focus on productivity.
For more details, please visit the PaySketch features page.
Benefits
Fast and Easy – Being a desktop application, PaySketch is really fast and bring up your entire PayPal account right upfront in seconds. One can view transaction history, monitor sales or payment, have a look at all the customers and even view product wise market performance.
Complete picture – To give you a clear and complete picture of your business, PaySketch comes with built in dashboards so that you can focus on each of the verticals. Each dashboard shows high level statistics as well as complete details for all transactions.
No session timeouts – PayPal sessions are usually short and users get logged out pretty quickly after a few minutes of inactivity. What this means is that if you login to PayPal to check the account balance or a transaction detail just to move to a different tab, after a few minutes of inactivity i.e. not revisiting your logged in PayPal account, you will be automatically logged out; for security reasons ofcourse.
Imagine of not being asked to login to PayPal time and again and yet getting every single update from changing account balance to new sales. PaySketch is a PayPal desktop application that does just that.
Download PayPal transactions history – You can download all PayPal transactions that have been synced to PaySketch. It takes just a second and there is no wait time involved as opposed to what it takes while downloading transactions history from your PayPal account itself.
Download
The latest version of PaySketch can be downloaded from its download page. Click on the free download button, enter your details and the download will be emailed to you within seconds.
Pricing
To know more about the latest offerings, features and to compare versions, view the license page.