Being able to generate a report on Subscription based payments from PayPal was much sought after by a good number of our users and with the latest version of PaySketch, you can create subscription report for PayPal in not time. If you run a subscriptions based business (or as they call a recurring revenue business model), the you must have always had more and more of these questions with time:-
How much have I made with subscription based payments (as opposed to one time payments)
How do I check Active PayPal Subscriptions
How to view all Subscriptions from my customers
How to see Canceled Subscriptions so as to reach out to lost customers and help bring them back on-board
Well, we've had these questions all the time too, so we created this very crucial and neat looking Subscriptions Report for PayPal merchants. It is composed of 3 primary sections:-
Historic trend
Subscriptions list
Subscription details
Historic Trend
The Historic trend sketches New and Canceled subscriptions over any period of time. It also plots payments to help you get the right marking on revenues. Trends such as these are very helpful in determining business growth, gray areas and show all possible indicators for upstream and downstream revenue trends.
Subscriptions List
The Subscriptions list section follows up with the subscriptions and their states so that you know high level details about each one of them. Moreover, this table allows you to very quickly download/export the PayPal subscriptions report in Excel and PDF.
Subscriptions Details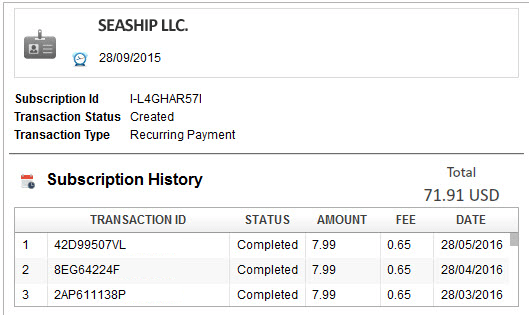 There is also a details section shown adjacent to the list of all subscriptions. It clearly lists out complete details for any selected subscription in a second – this includes the subscriber name, subscription start date, entire subscription history, gross revenues and a tonne of other important factors.