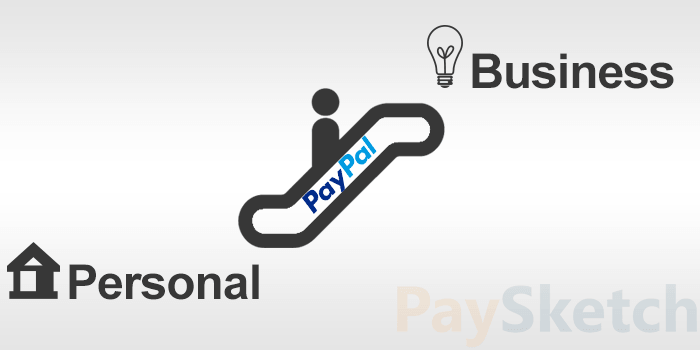 PayPal is one of the most beloved modes of online payment with over 100 million active users. Most of us have a PayPal personal account and a few even have  student one. However, if you are ready to sell products or offer paid services, a personal account won't help much. Its time that you upgrade PayPal account to business or premier type so that you can start accepting payment. This will open a plethora of options, services and modes in which you can accept payments. Facilities like PayPal API Access, PayPal Buttons, PDT and IPN will also show up on your account's profile. Its easy to upgrade PayPal account and you'll see exactly that in the steps below.
Upgrade PayPal account
Foremost, login to your PayPal personal account by going to PayPal's login page.
Click on the Upgrade link that shows up right below your name, next to the account type.
Enter the business name, phone number and address to move forward with the account upgrade process.
You will then be asked to provide information about your business. This includes the type (sole trader, corporation, non-profit, organization etc), a category and sub-category, monthly sales estimates, tax id and the address of your business website. Enter the required details and click Continue to complete the account upgrade process.
At the end, you would be asked to setup a mode of receiving payments – online, through PayPal here or through eBay. You can choose to select them now to later.
Benefits of PayPal Business and Premier accounts
PayPal personal and student accounts come with the flexibility for you to make payments through multiple mediums (credit cards, debit cards, bank account, paypal balance etc). You can make personal transfers and buy things online. However, when it comes to accepting payments as a merchant, that's not what personal or student accounts are meant for. To have access to complete functionalities for receiving payments, you would need to get or upgrade PayPal account to a type which supports merchant services. This is what PayPal Premier and Business accounts give you access to and here is what you get in addition:-
Merchant services – API access, IPN, PDT, various forms of receiving payments (create buy now buttons, shopping carts etc).
Accept payments via credit and debit cards.
Can apply for a PayPal debit card – to shop and pay using PayPal balance.
Accept PayPal payments when selling through eBay.
Additional features for PayPal Business account holders
Business accounts in PayPal get some extra room over Premier accounts. These are the leverages:-
PayPal Business account users can also accept bank account payments.
Can allow account access by upto 200 employees .
Have separate email addresses setup for different needs – example a different email address for support that the one in which you receive payments.
Operate under your organization name.
The transaction charges (fees) for all sales done through Premier and Business accounts remain the same.
That's how you can easily upgrade PayPal account to business or premier type and start selling products and services. Feel free to drop us an email or comment below for any questions, suggestions or feedback.